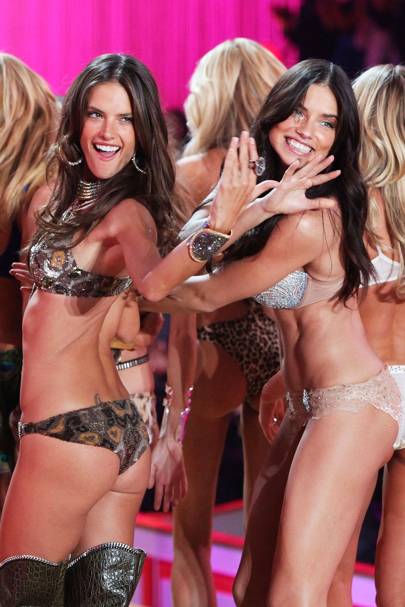 We asked the famous Angels how do you get in shape?
Adriana Lima: Each year, I try to be physically and mentally prepared for the show. People say that we train like Olympic athletes and I think although obviously it's a much different goal, we do work very hard to achieve how we want to look and feel as we walk down the runway for millions of people.

Lily Aldridge: I work out with Ballet Beautiful founder Mary Helen Bowers six times a week, sometimes twice a day leading up to the show.

Martha Hunt: I also do Ballet Beautiful, as it's great for my mental state and strengthening my body. Barre helps to tone and sculpt my glutes, legs and core without overdoing it, and ballet helps with graceful transitions between poses. I also work out with a trainer to incorporate weights and cardio.

Sara Sampaio: I work out with my trainer Justin Gelband, and do Pilates at Flex Studios in New York around five times a week, depending on how my body feels and my schedule. Resting is as important as working out. With Justin, we do a lot of resistance training, some cardio and a lot of butt work with ankle weights.
Thanks to Vogue and  Alive Newbold for all of VS body tips!